Rod's passion for volunteering and giving back to his community led him to join the Team Sask Mission Staff, and most recently, become the Assistant Chef de Mission for the 2023 Canada Winter Games in Prince Edward Island! We sat down with Rod to find out more about his experiences at these and past Canada Games. See below for Rod's insight into the benefits of volunteering.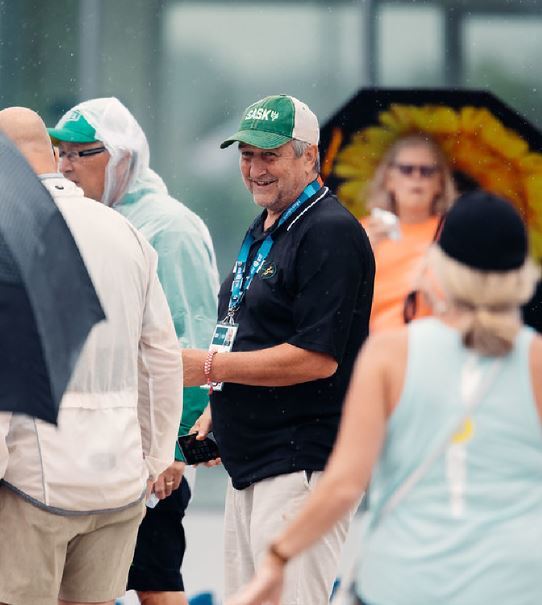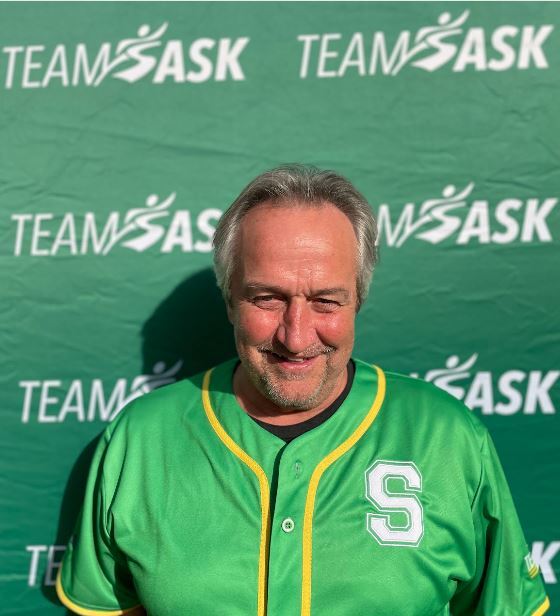 Question 1: How did you hear about the Sask Winter Games and Team Sask Mission Staff?
Answer: My association with the Sask Games Council began years before the 2023 Canada Winter Games. As a repeat member of the Team Sask Mission Staff at the Canada Games, I had the opportunity to be part of many memorable events.
Question 2: What were your roles and responsibilities as a volunteer?
Answer: As an Assistant Chef de Mission, I was responsible for helping the Chef de Mission (Mark Bracken) in preparing Team Sask for the Canada Winter Games in Prince Edward Island, alongside Greg Perreaux (Assistant Chef de Mission). My duties included athlete registration, transportation, bed assignments, logistics, Mission Staff meetings, and training. Additionally, I assisted with on-the-ground administration and logistics while we were in Prince Edward Island.
Question 3: What motivated you to become a volunteer as a Team Sask Mission Staff?
Answer: I have been volunteering since the mid-1990s, and my motivation has always been the satisfaction of helping others enjoy these major events. The opportunity to help provide chances for youth to become aware of a new sport or skill was a little addictive. When the opportunity to get involved as a Team Sask Mission Staff came my way, there was not a lot of hesitation to jump right in. I quickly discovered that it was an opportunity to play a role in assisting young athletes from Saskatchewan compete at the highest level against their peers from across the country. Seeing the country come together at the Opening and Closing Ceremonies, seeing participants enjoying the competition, and meeting people from across Canada is an amazing experience. Also, the opportunity to meet like-minded people from across the province on Mission Staff is such a pleasure– their stories and how they give back to their communities is inspiring!
Question 4: What has been your most memorable experience as a volunteer at the Games?
Answer: The Opening and Closing Ceremonies have always been highlights for me– to see all the provinces come together, the excitement of the Host Society Volunteers, the astonishment of the athletes, and celebrating with new and old friends (Mission Staff) is always a good memory.
Question 5: What are some of the benefits you've experienced from volunteering at the Games?
Answer: Meeting and working with volunteers from across the province and across the country, as well as the coaches and athletes. Seeing so many parts of our country, learning more about the Host Community and its people.
Question 6: What advice would you give to someone who is interested in volunteering but doesn't know where to start?
Answer: Reach out to the Sask Games Council office directly, and let them know you are interested in being part of the Team Sask experience. I strongly suggest you take the leap, the experience is always worth it!
Question 7: How do you balance your volunteer work with other commitments in your life?
Answer: Manage your schedule – know what your priorities are and strive to keep your volunteer life balanced with your family, friends, and your personal activities. Be sure to commit to volunteering as many people depend on you.
Question 8: What does volunteering mean to you?
Answer: Volunteering means a lot to me, and it is an opportunity to give back to all those people who have volunteered their time to help me throughout my lifetime. I've certainly benefitted from other people volunteering throughout my life. I have had volunteers coach me, mentor me, and coordinate events and tournaments that I've been a part of. It is an opportunity to set an example for the next generation of volunteers and hopefully inspire them to continue giving back to their communities.